Welcome to Our Parts Department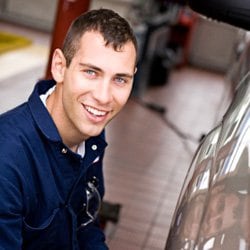 Bill Kay Ford Inc.'s Department  maintains a comprehensive inventory of high quality genuine OEM parts. Our highly knowledgeable staff is here to answer your parts inquiries. Should we not carry a part for which you're searching, we can always order it for you and receive it within a timely manner.
Get Parts Direct from Ford Through the Bill Kay Ford Team
Ford is a brand that is known for making reliable and durable vehicles. That said, every car is going to need parts at some point. By choosing to get your parts and accessories from Bill Kay Ford in Midlothian, you are ensuring that you are getting exactly what your specific vehicle needs. Our goal is to help you make your Ford run like new for your needs for the foreseeable future.
What are OEM Parts, and Why Are They Important?
OEM parts are the ones that came from the vehicle's manufacturer. They are designed to fit specific vehicles and work in perfect harmony with the other components of your car. On the other hand, aftermarket parts may fit several different vehicles and vary in their quality and longevity. Considering the fact that your car, truck, or SUV is a precision machine, it is important to find the parts that will fit perfectly. Although an OEM part may come with a higher initial cost, they can potentially save you quite a bit of money in the long run.
Why Get Your Parts from Bill Kay Ford?
We have a team of experts near Oak Forest that can help you determine what parts you need to get your Ford working optimally. You will find we keep a large selection on hand. If we do not happen to have what you need, we are more than happy to order it for you. On top of offering Ford parts near Markham, we also carry Ford accessories near Blue Island. You can find a roof rack, floor mats, a remote start, and more that is designed for your specific vehicle.
Get in Touch with Us Today
Do not wait to get started on your next project. Reach out to us to get the parts you are after for your Ford. We also have a Ford service department near Harvey that can help you install the parts if desired.